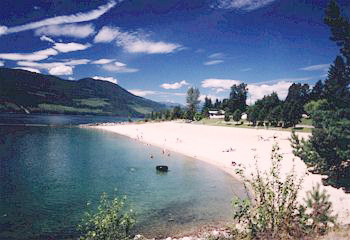 Beautiful Nakusp White Sand Beach
We are close to the world renowned Nakusp Hot Springs open year round. Enjoy the soothing and relaxing mineral waters of British Columbia's cleanest hot springs where the waters are replenished daily. Don't forget to visit the Halcyon Hot Springs for an equally pleasurable experience.
There are plenty more activites to take part in such as camping, hiking, biking, skiing, and snow shoeing in the Old Growth Forest surrounding the hot springs. Absorb the breathtaking landscape of Nakusp in any season.
Tee-off at the Nakusp Centennial Golf Course where the greens are well kept and the course will satisfy every golf lover. This is one of the many courses in the area.
Kayaking on the Kuskanax Creek
Japanese Garden
Iona Falls
Nakusp's Marina And View South On The Arrow Lakes
We are minutes from the shores of Upper Arrow Lake. You can follow the trails by horseback or participate in water sports such as canoeing, kayaking, fishing...the list is endless!